Have it all in the Okanagan!
Beautiful British Columbia, Canada
UBC's campuses are located in beautiful British Columbia, Canada, a land blessed with amazing diversity and a temperate climate. UBC Okanagan campus is located in the province's beautiful Okanagan Valley, home to dozens of award-winning wineries and exceptional outdoor recreation opportunities.
Visit HelloBC , the Province of British Columbia's official tourism website, for more information on BC.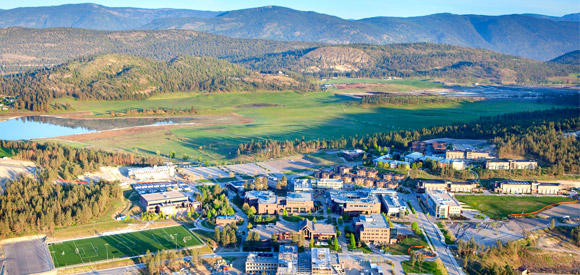 The Okanagan Valley has it all! Whether your passion is skiing fresh powder, playing a round of golf, visiting a winery, or enjoying a sunset on the lake, it's all here – and where else in the world could you do all of this in one day?
Our campus in Kelowna is in the heart of British Columbia's beautiful Okanagan Valley, regarded as one of the most scenic regions in Canada.  People are drawn to the great four-season weather, stunning landscapes and boundless opportunities for outdoor recreation – water sports, cycling, golfing, skiing, hiking and so much more.  Rich in culture, the Okanagan hosts brilliant wine festivals, extraordinary art, music and theatre events, and offers all the dining and entertainment you would expect from one of the most vibrant regions in the B.C. Interior.  UBC's Okanagan campus invites you to live in one of Canada's most desirable communities and work at one of the world's top universities.  You can have it all, right here in the Okanagan.
Why Choose UBC's Okanagan campus?
UBC's Okanagan campus provides:
Competitive salary and benefits
A work environment that supports professional and academic excellence
A career that helps prepare students to be exceptional global citizens
Smaller class sizes and an intimate learning environment
An international reputation for excellence in teaching and research
Diverse research approaches — individual, collaborative and interdisciplinary
Join a Leader Be Among the Best
The University of British Columbia has been named one of B.C.'s Top 50 Employers and consistently ranks among the top 30 universities in the world.  It's a great place to teach, advance your research and collaborate with colleagues in a truly interdisciplinary learning community.
We are looking for dedicated, exceptional faculty and staff to join us in making UBC's Okanagan campus one of the world's best academic experiences.