March 29, 2023 – 12:00pm-12:30pm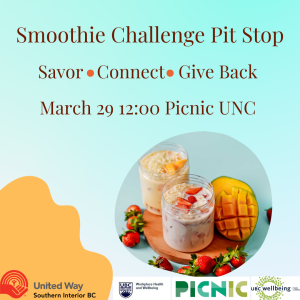 Celebrate Nutrition Month at UBC by participating in the Smoothie Challenge and show your support for the United Way and/or SUO Pantry.
We had a great time with our colleagues sampling tasty smoothies. A big thanks to judges Casey Hamilton, Dr. Sally Willis-Stewart and Chef Brad Vigue who had the difficult task of awarding 1, 2 & 3 place winners based on creative, healthy ingredients, taste and texture. We hope these recipes fuel some smoothie inspiration!
First place: Morning Chai Smoothie, submitted by Hailey Rilkoff
1 Banana; 1/4-1/2 cup roasted sweet potato; 1/4-1/2 cup yogurt (plain or vanilla); 1 tbsp almond or cashew butter; 1 tsp chai spices (cinnamon, cardamom, nutmeg, cloves, allspice, ginger; 1 tsp maple syrup or honey; top with almond milk (or water); blend all ingredients together
Second place: The Caffeinated Funky Monkey, submitted by Lindsay Farrugia
1 shot of espresso 1/2 frozen banana 1 cup oat milk 1 tbsp peanut butter 1/2 tbsp coco powder Splash vanilla extract (to taste) 1/2 tsp cinnamon Small scoop of ice (*optional: one scoop vanilla or ideally chocolate protein powder).
Add all ingredients to blender. To keep espresso from melting the ice, add oat milk first, then add the espresso, then the other ingredients with ice and frozen banana added last. Blend until smooth and serve.
Third place: Nut -Yur – B'nan, submitted by Erika Lachance
2 frozen banana 3 ice cubes, 5 tbsp. peanut butter (can use peanut-free alternatives like Wow butter) 1 tbsp. honey greek yogurt (or just plain greek yogurt) 1/2 cup coconut water 1 cup milk (can use dairy-free alternative instead). Optional 1 tbsp. Nutella, 1/3 cup Tazo Chai. Combine all ingredients and blend.
Thanks to everyone who participated and came out to support the United Way!
Why we love smoothies:
Frozen/fresh fruits and veggies are packed with nutrients and are delicious when blended together
A great way to increase fiber intake and  stay hydrated
A simple way to increase consumption of fruits and veggies
This Nutrition Month, join us on a journey of self-discovery by exploring the 10 Principles of Intuitive Eating.