Staff Awards of Excellence
2019 Staff Awards of Excellence announced at DVC and Principal's Town Hall
At the August Deputy Vice-Chancellor and Principal's Town Hall, a number of employees were recognized for their outstanding service to the university at the annual Staff Awards of Excellence.
The awards are given to employees who exemplify one of five categories: Enhancing the UBC Experience, Leadership, Sustainability, Global Citizenship and Okanagan Campus Spirit.
Congratulations to this year's winners!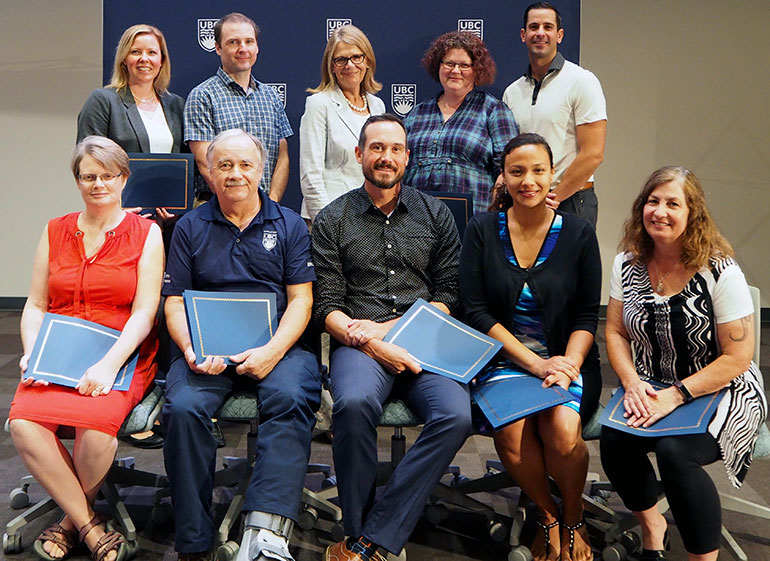 Top row, from left: Andrea Klassen, Andrew Calhoun, Deborah Buszard, Christine Squire and Derek Como.
Bottom row, from left: Shannon Hohl, Bruce Mooney, Anthony Dodds, Alana Wright and Robin Whittall (Missing: Samantha Larsen)
---
The Staff Awards of Excellence celebrate outstanding contributions instrumental in helping UBC's Okanagan campus
achieve its strategic imperatives, and to contribute to the commitment to create an Outstanding Work Environment, by:
Recognizing initiative, talent, creativity and dedication that enrich the work experience for everyone at UBC, and
Strengthening recruitment and retention strategies to support UBC's commitment to hiring the best faculty & staff.
Awards

Five (5) awards/categories of $2,000 per recipient. Up to four awards per year are offered each year in the following categories:
Enhancing the UBC Experience (Customer Service)
Leadership
Sustainability
Global Citizenship
Okanagan Campus Spirit
Please review the nomination checklist below for details on how to submit a nomination package.
SAE Awards Terms of Reference
Award Criteria
Nomination Checklist
Eligibility
Individuals or team nominations require at least one regular, permanent staff member with a minimum of two years continuous service.
Process
All UBC Okanagan employees and students may nominate candidates for an award. Either an individual or a team can be nominated; teams consist of two or more individuals.
Your completed award nomination package must include:
Nomination Cover Letter and Appendix A
Rationale and background information on the individual or team nominees.
Letters of Support (Appendix B)
A minimum of two (2) and maximum of five (5) support letters from colleagues and students, not including the nominator and nominee.
PLEASE RETURN THE COMPLETED AWARD NOMINATION PACKAGE ON OR BEFORE JULY 26, 2019 (deadline extended!) TO:
Chair, UBC Okanagan Staff Awards of Excellence Committee
c/o Human Resource Office
ADM002
On behalf of the Committee, the Human Resources office will acknowledge receipt of the nomination package.
All information submitted will be kept strictly confidential.
Awards will be presented on August 29, 2019 at the Annual DVC Town Hall.
Nominators of the successful candidate(s) will be notified by the award committee and be invited, along with the nominee to attend the award ceremony.
Selection Committee
The Committee on the UBC Okanagan Staff Awards of Excellence is made up of representatives from Human Resources, Academic Leadership, the Okanagan Executive Team, BCGEU and AAPS. This Committee will administer, receive, evaluate and recommend the winners for each year.
Questions?
If you have any questions about the nomination process or writing a letter of support, please contact Lisa Frost at 250.807.9021 or lisa.frost@ubc.ca.