Staff Awards of Excellence
The Staff Awards of Excellence celebrate outstanding contributions instrumental in helping UBC's Okanagan campus achieve its strategic imperatives, and to contribute to the commitment to create an Outstanding Work Environment, by:
Recognizing initiative, talent, creativity and dedication that enrich the work experience for everyone at UBC, and
Strengthening recruitment and retention strategies to support UBC's commitment to hiring the best faculty & staff.
Awards are given to Individuals (four awards) and to a Team (one award) each year.
Awards
Five (5) categories of awards.  Up to five awards per year are offered in the following categories: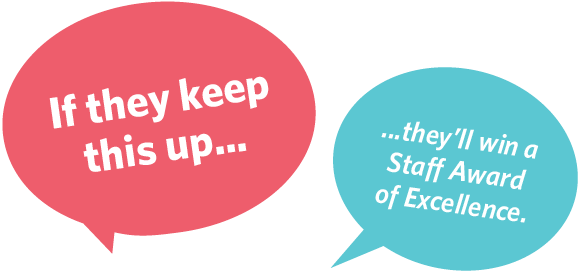 Enhancing the UBC Experiences
Leadership
Sustainability
Global Citizenship
Okanagan Campus Spirit (Team Award)
Please review the nomination checklist below for details on how to submit a nomination package.
Award Criteria
Nomination Checklist
Eligibility
Individuals or team nominations require at least one regular, permanent staff member with a minimum of two years continuous service.
Process
All UBC Okanagan employees and students may nominate candidates for an award. Either an individual or a team can be nominated; teams consist of two or more individuals.
Your completed award nomination package must include:
Nomination Cover Letterand Appendix A
Rationale and background information on the individual or team nominees.
Letters of Support (Appendix B)
A minimum of two (2) and maximum of five (5) support letters from colleagues and students, not including the nominator and nominee.
PLEASE SCAN, via PDF, THE COMPLETED AWARD NOMINATION PACKAGE ON OR BEFORE JULY 31, 2020 (extended from July 17) TO:
On behalf of the Committee, the Human Resources office will acknowledge receipt of the nomination package.
All information submitted will be kept strictly confidential.
Awards will be presented as a virtual event on September 3, 2020.
Nominators of the successful candidate(s) will be notified by the award committee and be invited, along with the nominee to attend the award ceremony.
---
Selection Committee
The Committee on the UBC Okanagan Staff Awards of Excellence is made up of representatives from Human Resources, Academic Leadership, the Okanagan Executive Team, BCGEU and AAPS. This Committee will administer, receive, evaluate and recommend the winners for each year.
---
2020 Ceremony and Recipients
The Awards Committee received a record number of nominations in 2020, nearly double that of any previous year and totaling an impressive 36 nomination packages.
While all of the nominations were worthy of an award, according to Gill Henderson, Executive Director of UBCO Human Resources, the awards committee had the unenviable task of selecting just five.
The five award recipients are:
Recipient
Awarded
Jenny Janok
Customer Service
Philipp Reichert
Global Citizenship
Alanna Vernon
Leadership
Nancy Adams
Leadership
School of Nursing Lab Team

Helen Hamel

Leah Dawe

Laura Mercer

Benda Huber

Colleen duManoir

Michelle Earl

Linda Drew

 OK Campus Spirit
A video celebrating the outstanding qualities and achievements of these staff members can be viewed below.
---
Previous Years
---
Questions?
If you have any questions about the nomination process or writing a letter of support, please contact Gill Henderson at 250.807.8618 or gillian.henderson@ubc.ca