Managing @ UBC
The Managing at UBC Program is open to M&P staff who have staff reporting directly to them and is designed to support them in their role, recognizing the significant responsibility they hold for employee performance and engagement and achievement of unit goals.
By participating in this program, new managers* will feel supported in working towards their full potential and have a broadened understanding of their role in managing people and systems. Because the program uses a self-directed learning model, managers will be able to identify and develop their learning goals from a menu of resources provided to help them fulfill their roles.
This 9-month program, September to May, has been designed to challenge M&P leaders at all levels to be their very best. Based on a model that starts with the idea that the act of managing requires an understanding of both management and leadership and a dual focus on tasks and people, this program includes assessments, coaching, workshops and peer learning triads.
*this refers to those that hold the titles of 'Manager' or Supervisor, Assoc. Director, Director, Librarian, Coordinator, etc.
Program Framework
The framework for Managing @ UBC is based on a specific leadership model adapted by Peter Farey, Leaderskill Group, 2005.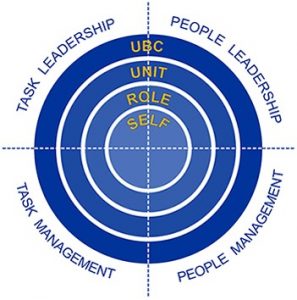 Assumptions
Any model is based on certain assumptions. This one starts with the idea that the act of managing requires an understanding of both management and leadership and a focus on both tasks and people. This leadership framework organizes these aspects into four quadrants: leadership, management, people, and task.
Within each quadrant of this model, there are 5 disciplines that can be practiced to achieve professional effectiveness. The Managing @ UBC program is built to offer learning opportunities around these disciplines. New managers are invited to identify and practice the disciplines within each of the four quadrants as they determine necessary.
Program Overview
Due to the restrictions required by COVID-19 the 2020/21 program will be deliver 100% online and Okanagan participants will be in combined sessions with Okanagan and Vancouver managers.
Managing@UBC has been developed to provide personalized and customized learning for managers. In order to cater to your individual needs, the program adopts a cohort learning approach where you travel alongside of your campus peers, learning from and with one another. As a participant, you will receive support from the Workplace Learning & Engagement Manager and will be assigned a Program Alumni who will help guide your learning depending on your specific needs.
All participants are expected to:
Establish goals with a Program Sponsor/Manager
Attend Jumpstart in October, and the Final Summit in May
Access resources relevant to learning needs
Form and participate in a Peer Triad groups
Respond to your Learning Goals and note what you were able to achieve
By providing a cohort model approach to learning, you can tap into both in-person and reading resources, together and independently. We provide the framework for your leadership growth as a manager. You will also have the opportunity to learn and grow in a supportive environment with your peers and have a smoother adjustment and transition period into your new role.
This program is not meant to compete with other leadership initiatives on campus, but rather to complement them.
Applications
Applications for the 2020-2021 program are open and due by August 28, 2020.
 _____________________________________________________
Application format for the Managing@UBC Program
Applications are now open for the 2020/2021 cohort:
https://ubc.ca1.qualtrics.com/jfe/form/SV_5hZTxcZdiLVyD77
The program is open to M&P Employees, who manage direct report(s) for three years or less, and can commit to engage fully in program offerings and assignments.
Questions? Review full program details here or contact Dana Troster, Leadership Programs Lead, or Winnie Kam, Leadership Programs Manager.