UBC Okanagan Welcome Back Day
Annual Staff & Faculty Welcome Back Town Hall, Info Fair & BBQ
Each year, the Deputy Vice Chancellor's Office and Human Resources welcomes UBC Okanagan Staff and Faculty to the new academic year by hosting the Annual Staff & Faculty Welcome Back Info Fair, BBQ, DVC Town Hall and Staff Awards of Excellence.
Held the week before the classes start in September and produced by the HR department along with Ceremonies and Events, the day is a wonderful opportunity to attend the annual Deputy Vice Chancellor's Town Hall, enjoy a complimentary lunch, live entertainment, information booths, and the camaraderie of your fellow UBC Okanagan colleagues.
The theme this year is all things 'Varsity'-Blue & Gold of UBC, Heat team members, and a throwback to the 1950's campus life! Everyone attending the event will receive a bag to gather their swag and information from each of the booths they visit.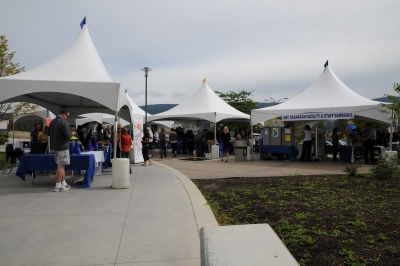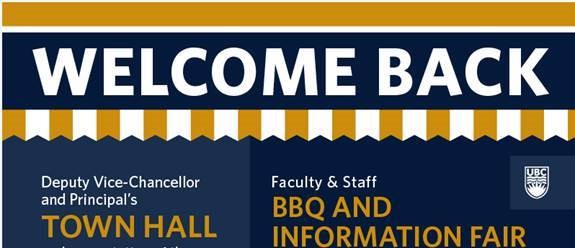 Date: Thursday, August 29, 2019
Deputy Vice-Chancellor's Town Hall
Time:  9:30 am to 1:00 pm
9:00 am to 10:30 am
Location: University Centre Ballroom, UNC 200
The Town Hall will include the presentation of the Staff Awards of Excellence
Staff & Faculty Information Fair
11:30 am to 1:00 pm
Location: University Centre Commons Walkway
Staff & Faculty BBQ
11:30 am to 1:00 pm
Location: University Centre Commons Patio
---
BBQ Registration
Please RSVP if you will be attending the BBQ and or the information fair using the link below.
For additional information contact Ceremonies & Events directly at: okanagan.ceremonies@ubc.ca
---
Information Fair
Departments, Faculties and Associations are invited to plan and staff a table with information they would like to share with employees. This gives the exhibitors an opportunity to showcase what their department or faculty has to offer. If a department, faculty or association would like to participate they are asked to register online before  Aug 17, 2018. 
Register here to book your tables, chairs or power requirements.
For more information contact Lisa Frost, Manager, Workplace Learning & Engagement at lisa.frost@ubc.ca
Contacts
Lisa Frost, Manager, Workplace Learning & Engagement