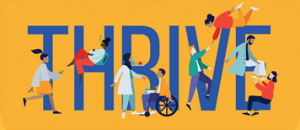 Thrive Connectivity Challenge
Take part in the Thrive Connectivity Challenge and foster wellbeing and social connection in fun and simple ways that connect to the Thrive 5 (Moving More, Sleeping Soundly, Eating Well, Giving Back, and Saying Hi).
How it works: 
Open to all UBCO staff and faculty.
Participate in teams up to five, one challenge card per team. As a team, complete as many challenges as you can. Some of the challenges can be done individually, some challenges will
involve others
The Challenge card can be downloaded here.
Once you have fully completed your card, take a picture or screen shot and send to Thrive.okanagan@ubc.ca.
The Challenge cards must be submitted by November 25.
Completed cards will be entered into a random prize draw.
Lots of prizes to be won, including a catered lunch for participating teams!
This activtiy is brought to you by Workplace Health and Wellbeing and Athletics & Recreation
Questions: please contact amanda.swoboda@ubc.ca